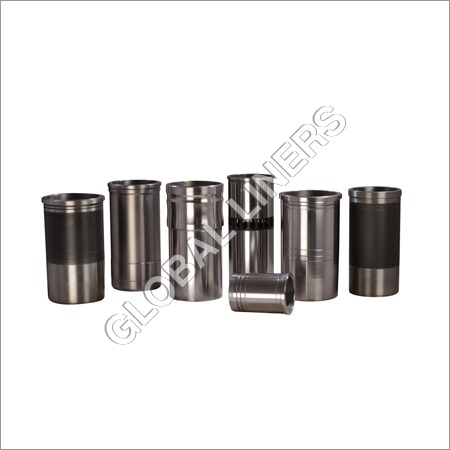 Price And Quantity
200 Piece

200 onwards INR/Piece
Product Specifications
Iron

ENGINE PARTS

Engine Mounts

Car Engine Part
Trade Information
ANY INDIAN PORT

50000 Piece Per Month

60 Days

Yes

Free samples are available

As per Customer Requirement.

Asia, Western Europe, Middle East, Africa, South America, Central America, Australia, Eastern Europe, North America

ISO 9001:2015
Product Description
Offered to customers at the most sensible rate conceivable, the
Toyota Cylinder Liner
made accessible by us in the business sector, is known not amongst the finest that are accessible in the business sector. Making of this reach is finished by trusted seller, using the finest crude materials and current machines, in consistence with the set business standards and rules. Attributable to this, the item's standard of value never disintegrates. These liners are exceptionally sturdy and having dimensionally accurate.
Key Features
Impeccable finishing
Dimensional accuracy
Durable
Resistant to corrosion

WHY GLOBAL LINER ?
Strict quality control
ISO 9001 : 2008 Certified company
Experienced Staff
State Of Art Infrastructure
Good Manufacturing Company
Technical Specification
TOYOTA
ENGINE CODE
INNER DIA/BORE
OUTER DIA
LENGTH
PART NO
1
1E
70.5
MM
74.5
MM
132
MM
11461-10080






2
2K
72
MM
76
MM
122.2
MM
0






3
2E
73
MM
77
MM
132
MM
11461-11030
11461-11040




4
2E
73
MM
77
MM
132
MM
11461-11030
11461-11040




5
1N
74
MM
78
MM
140
MM
11461-55010






6
3K
75
MM
79
MM
140
MM
11461-24010






7
4K
75
MM
79
MM
140
MM
11461-13010






8
2M
75
MM
79
MM
140
MM
0






9
2M
75
MM
79
MM
140
MM
0






10
3P
76
MM
80
MM
138
MM
11461-21010
11461-23010




11
3A ,3AC ,3AU
77.5
MM
81.5
MM
140
MM
11461-15010






12
2R
78
MM
82
MM
146
MM
11461-31010






13
5AF
78.7
MM
82.7
MM
140
MM
11461-15040






14
5AF
78.7
MM
82.7
MM
140
MM
11461-15040






15
12R
80.5
MM
84.5
MM
146
MM
11461-31020






16
5K
80.5
MM
84.5
MM
146
MM
11461-13040






17
5K
80.5
MM
84.5
MM
146
MM
11461-13040






18
7K
80.5
MM
84.5
MM
165
MM
11461-13060






19
4A
81
MM
85
MM
150
MM
11461-16010






20
4A 4A-ELU
81
MM
85
MM
150
MM
11461-16010






21
4A 4A-GEU
81
MM
85
MM
150
MM
11461-16010






22
4A 4A-GE
81
MM
85
MM
150
MM
11461-16010






23
1C
83
MM
87
MM
140
MM
11461-64010
11461-64011




24
1C~LATE
83
MM
87
MM
140
MM
11461-64010
11461-64011




25
1C~LATE
83
MM
87
MM
140
MM
11461-64010
11461-64011




26
1C~NEW
83
MM
87
MM
140
MM
11461-64010
11461-64011




27
1CT
83
MM
87
MM
140
MM
11461-64010
11461-64011




28
2S
84
MM
90
MM
177.8
MM
11461-61030






29
2T ,2TB
85
MM
89
MM
150
MM
11461-25010
11461-28010




30
2T ,2TB
85
MM
89
MM
150
MM
11461-25010
11461-28010




31
3T
85
MM
89
MM
150
MM
11461-25010
11461-28010




32
2C
86
MM
90
MM
154
MM
11461-64090






33
2C
86
MM
90
MM
154
MM
11461-64090






34
2C
86
MM
90
MM
154
MM
11461-64090






35
2C
86
MM
90
MM
154
MM
11461-64090






36
2C LATE
86
MM
90
MM
154
MM
11461-64090






37
2CT
86
MM
90
MM
154
MM
11461-64090






38
3CT
86
MM
90
MM
154
MM
11461-64090






39
1Y
86
MM
90
MM
144
MM
11461-71010






40
2Y
86
MM
90
MM
154
MM
11461-72010






41
3Y
86
MM
90
MM
144
MM
11461-73010






42
1RZ
86
MM
89.5
MM
170
MM
11461-75010






43
1RZ
86
MM
89.5
MM
170
MM
11461-75010






44
1DZ
86
MM
90
MM
175
MM
11461-78200
11461-78020




45
1DZ
86
MM
90
MM
175
MM
11461-78200
11461-78020




46
1DZ
86
MM
90
MM
175
MM
11461-78200
11461-78020




47
2J 3G
88
MM
93
MM
183
MM
11461-48010
11461-48011
11461-47010
11461-47011
48
2J 4G
88
MM
93
MM
183
MM
11461-48010
11461-48011
11461-47010
11461-47011
49
H
88
MM
93
MM
183.5
MM
11461-48010
11461-48011
11461-47010
11461-47011
50
5R
88
MM
92
MM
150
MM
11461-44020






51
5R
88
MM
92
MM
150
MM
11461-44020






52
18R
88.5
MM
92.5
MM
150
MM
11461-34010






53
20R
88.5
MM
92.5
MM
150
MM
13101-38050






54
20R
88.5
MM
92.5
MM
150
MM
13101-38050






55
20R
88.5
MM
92.5
MM
150
MM
13101-38050






56
L ,LN30
90
MM
94
MM
160.5
MM
11461-54010






57
L ,LN40
90
MM
94
MM
160.5
MM
11461-54010






58
L ,LN50
90
MM
94
MM
160.5
MM
11461-54010






59
2H
91
MM
95
MM
183
MM
11461-68010






60
4Y
91
MM
95
MM
164.5
MM
11461-73030






61
4Y
91
MM
95
MM
164.5
MM
11461-73030






62
2L
92
MM
96
MM
160.5
MM
11461-54060






63
2L NEW 2L II
92
MM
96
MM
160.5
MM
11461-54060






64
2LT
92
MM
96
MM
160.5
MM
11461-54060






65
2LT 2L II T
92
MM
96
MM
160.5
MM
11461-54060






66
2LT II NEW
92
MM
96
MM
160.5
MM
11461-54060






67
2LT II NEW
92
MM
96
MM
160.5
MM
11461-54060






68
2KD
92
MM
96
MM
165
MM
11461-30030






69
22R
92
MM
96
MM
180
MM
11461-35010
11461-35020




70
22R
92
MM
96
MM
180
MM
11461-35010
11461-35020




71
22R
92
MM
96
MM
180
MM
11461-35010
11461-35020




72
2F
94
MM
98
MM
191
MM
11461-61010






73
2F
94
MM
98
MM
191
MM
11461-61010






74
1HZ
94
MM
98
MM
168.5
MM
11461-17010






75
1PZ
94
MM
98
MM
166.5
MM
11461-17010






76
1HDT
94
MM
98
MM
166.5
MM
11461-17010






77
1HDT
94
MM
98
MM
166.5
MM
11461-17010






78
1HDT
94
MM
98
MM
166.5
MM
11461-17010






79
1HDT
94
MM
98
MM
166.5
MM
11461-17010






80
B ,BU15
95
MM
100
MM
190
MM
11461-56010






81
B ,BU30
95
MM
102
MM
190
MM
11461-56020






82
B LATE
95
MM
99
MM
190
MM
11461-56030






83
11B ,BU65
95
MM
99
MM
192
MM
11461-56060






84
11B NEW ,BU84
95
MM
99
MM
192
MM
11461-56060






85
12Z
96
MM
100
MM
182.5
MM
11461-78300
11461-78301




86
1KD
96
MM
99
MM
170
MM
0






87
1KZ
96
MM
100
MM
182.5
MM
11461-78300
11461-78301




88
1KZ NEW
96
MM
100
MM
182.5
MM
11461-78300
11461-78301




89
1Z
96
MM
100
MM
182.5
MM
11461-78300
11461-78301




90
11Z
96
MM
100
MM
182.5
MM
11461-78300
11461-78301




91
3L
96
MM
100
MM
190
MM
11461-54100






92
13Z
98
MM
101
MM
181.5
MM
11461-78700






93
14Z
98
MM
101
MM
181.5
MM
11461-78700






94
2Z
98
MM
101
MM
181.5
MM
11461-78700






95
2B
98
MM
102
MM
190
MM
11461-57010






96
5L
99.5
MM
103.5
MM
190
MM
11461-54120






97
D
100
MM
113
MM
242
MM
11461-76020






98
13B
102
MM
106
MM
190.5
MM
11461-58020






99
13BT
102
MM
106
MM
190.5
MM
11461-58020






100
14B
102
MM
106
MM
192
MM
11461-58020






101
14BT
102
MM
106
MM
192
MM
11461-58020






102
3B
102
MM
106
MM
188
MM
11461-58010






103
3B NEW
102
MM
106
MM
188
MM
11461-58010






104
1W
104
MM
107
MM
201
MM
11461-78020






105
2D ,DA115
105
MM
115.5
MM
242
MM
11461-77040
11461-77015




106
2D ,DA118
105
MM
115.5
MM
233
MM
11461-77021






107
15B
108
MM
112
MM
197
MM
11461-58080
11461-58090




108
15BT
108
MM
112
MM
197
MM
11461-58080
11461-58090




109
15BT
108
MM
112
MM
197
MM
11461-58080
11461-58090




Other Products in 'Cylinder Liners' category