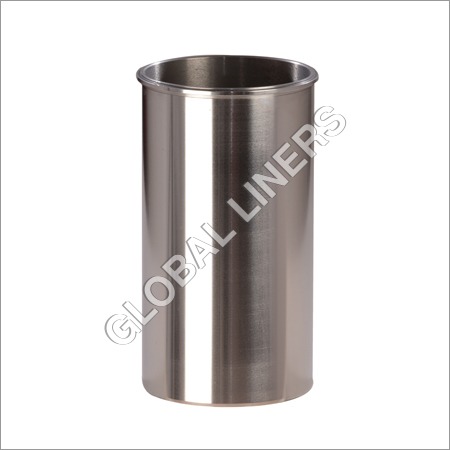 Price And Quantity
200 onwards INR/Piece

200 Piece
Product Specifications
ENGINE PARTS

Iron

Engine Mounts

Car Engine Part
Trade Information
ANY INDIAN PORT

Cash Against Delivery (CAD), Cash on Delivery (COD), Cash Advance (CA), Cash in Advance (CID), Letter of Credit (L/C), Letter of Credit at Sight (Sight L/C)

50000 Piece Per Month

60 Days

Yes

Free samples are available

As per Customer Requirement.

ISO 9001:2015
Product Description
Mitsubishi Cylinder Liner
We gladly introduce ourselves as a settled
Mitsubishi Cylinder Liner
manufacturer, wholesaler/distributor, and exporter. The scope of barrel liner supplied by us comprises of car chamber liners et cetera. We supply barrel liners with most recent innovation and sound designing standards. So come and go along with us to buy best quality Cylinder Liners from us. With various model alternatives to browse, these liners are accessible in sizes from 80mm to 300mm bore or as indicated by the clients. Some of its elements incorporate discovering use in various car models, offering exact application support, accessible according to particular machining measurements, accessible decisions in type of various outside, inside, rib and length measurements.
Features
High dimensional accuracy
Sturdy design
Used in engine cylinders
Affordable price
WHY GLOBAL LINER ?
Strict quality control
ISO 9001 : 2008 Certified company
Experienced Staff
State Of Art Infrastructure
Good Manufacturing Company
MITSUBISHI
ENGINE CODE
INNER DIA/BORE
OUTER DIA
LENGTH
PART NO
1
4G11
69.5
MM
73.5
MM
140
MM
MD030698








2
4G13
71
MM
75
MM
132
MM
0








3
4G13
71
MM
75
MM
132
MM
0








4
4G13
71
MM
75
MM
132
MM
0








5
4G17
72.2
MM
76.2
MM
130
MM
0








6
4G33
73
MM
77
MM
150
MM
MD002290








7
K4D
0
MM
0
MM
0
MM
0








8
4G15
75.5
MM
79.5
MM
140
MM
0








9
4G15
75.5
MM
79.5
MM
140
MM
0








10
K4E
76
MM
79.5
MM
145
MM
0








11
4G41
76.5
MM
80.5
MM
127
MM
0








12
4G32
76.9
MM
80.9
MM
150
MM
MD004233








13
4D65
80.6
MM
84.5
MM
150
MM
MD061685
MD127022






14
4D65T
80.6
MM
84.5
MM
150
MM
MD061685
MD127022






15
4G51
81
MM
85
MM
146
MM
0








16
4D68
82.7
MM
85.7
MM
165
MM
MD181195








17
4D68T
82.7
MM
85.7
MM
165
MM
MD181195








18
K3M
84
MM
87.5
MM
162
MM
0








19
4DQ5
84
MM
87
MM
162
MM
30607-50301








20
4G63
85
MM
89
MM
150
MM
MD040409








21
S4Q2
88
MM
0
MM
0
MM
0








22
K4N
90
MM
0
MM
0
MM
0








23
4D55
91.1
MM
94.1
MM
165
MM
MD050430
MD103648
ME050430




24
4D56
91.1
MM
94.1
MM
165
MM
MD050430
MD103648
ME050430




25
4D56 NEW
91.1
MM
94.1
MM
165
MM
MD050430
MD103648
ME050430




26
4D55T
91.1
MM
94.1
MM
165
MM
MD050430
MD103648
ME050430




27
4D56T
91.1
MM
94.1
MM
165
MM
MD050430
MD103648
ME050430




28
4D56T
91.1
MM
94.1
MM
165
MM
MD050430
MD103648
ME050430




29
4D55T
91.1
MM
94.1
MM
165
MM
MD050430
MD103648
ME050430




30
4D56T NEW
91.1
MM
94.1
MM
165
MM
MD050430
MD103648
ME050430




31
4G54
91.1
MM
95.1
MM
165
MM
0








32
4DR5
92
MM
95
MM
176
MM
31617-022020








33
4DR51
92
MM
95
MM
176
MM
31617-022020








34
S4E ,S6E
94 (94)
MM
98
MM
168.5
MM
34407-00301








35
S4S .S6S
94 (94)
MM
98
MM
190
MM
32A07-00300








36
S4SD .S6SD
94 (94)
MM
98
MM
190
MM
32A07-00300








37
S4SDT ,S6SDT
94 (94)
MM
98
MM
190
MM
32A07-00300








38
4DR7
95
MM
98
MM
186
MM
ME997798
MD168963
ME200685




39
4M40
95
MM
98
MM
186
MM
ME997798
MD168963
ME200685




40
4M40 NEW
95
MM
98
MM
186
MM
ME997798
MD168963
ME200685




41
4M40TC
95
MM
98
MM
186
MM
ME997798
MD168963
ME200685




42
6DS1
95
MM
108
MM
191.2
MM
ME020306








43
6DS3
95
MM
110
MM
201.2
MM
ME021841








44
S4E-2 ,S6E-2
98
MM
101
MM
168.5
MM
34407-05400
34407-00500






45
S4F ,S6F
98
MM
101
MM
168.5
MM
34407-05400
34407-00500






46
6DS5
98
MM
110
MM
191.2
MM
ME020316








47
6DS70A
98
MM
110
MM
201.2
MM
ME021843








48
6DS70C
98
MM
110
MM
206.2
MM
ME029081
ME029187






49
4M41T
98.5
MM
102.5
MM
186
MM
0








50
4D30
100
MM
104
MM
196.5
MM
ME011513








51
4D30J
100
MM
104
MM
196.5
MM
ME011513








52
4D31
100
MM
104
MM
191.5
MM
ME011604
ME011523






53
4D31T
100
MM
104
MM
191.5
MM
ME011604
ME011523






54
4D31T NEW
100
MM
104
MM
191.5
MM
ME011604
ME011523






55
6D31T NEW
100
MM
104
MM
191.5
MM
ME011604
ME011523






56
S6KT
102
MM
105
MM
195
MM
34307-00501








57
4D32
104
MM
108
MM
197.5
MM
ME012900








58
4D32
104
MM
108
MM
197.5
MM
ME012900








59
4D32
104
MM
108
MM
197.5
MM
ME012900








60
4D34
104
MM
108
MM
197.5
MM
ME013366








61
4D34T
104
MM
108
MM
197.5
MM
ME013366








62
4D34T
104
MM
108
MM
197.5
MM
ME013366








63
AD34T
104
MM
108
MM
197.5
MM
ME013366








64
6D34T
104
MM
108
MM
197.5
MM
ME013366








65
6D34T
104
MM
108
MM
197.5
MM
ME013366








66
4D36
104
MM
108
MM
197.5
MM
ME013366








67
6D10
105
MM
119
MM
205.8
MM
ME031502
ME031041






68
6D11
105
MM
119
MM
228.3
MM
ME031505
ME031039






69
4D33
108
MM
112
MM
197
MM
ME013333








70
4D33T
108
MM
112
MM
197
MM
ME013333








71
4D35
110
MM
114
MM
200
MM
ME013678








72
6D14
110
MM
112
MM
206
MM
ME031453
ME031456
ME031617
ME031508
ME031510
73
6D14
110
MM
112
MM
206
MM
ME031453
ME031456
ME031617
ME031508
ME031510
74
6D14T
110
MM
112
MM
206
MM
ME031453
ME031456
ME031617
ME031508
ME031510
75
6D14-2AT
110
MM
122
MM
211
MM
ME071198








76
6D14-3AT
110
MM
122
MM
211
MM
ME071198








77
6DB1
110
MM
125
MM
270
MM
30007-62200
ME040040






78
6DB1 NEW
110
MM
125
MM
270
MM
30007-62200
ME040040






79
6D15
110
MM
125
MM
270
MM
ME031656
ME071041
ME071063




80
6D15
113
MM
125
MM
206
MM
ME031656
ME071041
ME071063




81
6D15
113
MM
125
MM
206
MM
ME031656
ME071041
ME071063




82
6D15
113
MM
125
MM
206
MM
ME031656
ME071041
ME071063




83
6D15T
113
MM
125
MM
206
MM
ME031656
ME071041
ME071063




84
6D15T
113
MM
117
MM
206
MM
ME071145
ME071090
ME047574




85
6D15-3AT
113
MM
117
MM
206
MM
ME071145
ME071090
ME047574




86
4M51
118
MM
122
MM
190
MM
0








87
4M51T
118
MM
122
MM
190
MM
0








88
6D16
118
MM
122
MM
204
MM
ME071224
ME071225
ME071228




89
6D16
118
MM
122
MM
204
MM
ME071224
ME071225
ME071228




90
6D16
118
MM
122
MM
204
MM
ME071224
ME071225
ME071228




91
6D16T
118
MM
122
MM
206
MM
ME041102
ME041105
ME041107




92
6D16T
118
MM
122
MM
206
MM
ME041102
ME041105
ME041107




93
6D16-3AT
118
MM
122
MM
206
MM
ME041102
ME041105
ME041107




94
6D16-3AT
118
MM
122
MM
206
MM
ME041102
ME041105
ME041107




95
6D16T
118
MM
122
MM
206
MM
ME041102
ME041105
ME041107




96
6D17
118
MM
122
MM
209
MM
ME071225
ME071125






97
6D17
118
MM
122
MM
210
MM
ME071225
ME071125






98
6M60
118
MM
122
MM
210
MM
ME041105
ME071937






99
6M60T
118
MM
122
MM
210
MM
ME041105
ME071937






100
6M61
118
MM
122
MM
210
MM
ME041105
ME071937






101
6D20
125
MM
143
MM
261.3
MM
30907-10500
MD051157
MD051553




102
6D20
125
MM
143
MM
261.3
MM
30907-10500
MD051157
MD051553




103
6D22
130
MM
147
MM
261.8
MM
ME051217
ME051500
ME051501
ME051502
ME051503
104
6D22T
130
MM
147
MM
261.8
MM
ME051217
ME051500
ME051501
ME051502
ME051503
105
6D22T
130
MM
147
MM
261.8
MM
ME051217
ME051500
ME051501
ME051502
ME051503
106
6D22T 3V
130
MM
147
MM
261.8
MM
ME051217
ME051500
ME051501
ME051502
ME051503
107
6D22-2AT
130
MM
147
MM
261.8
MM
ME051217
ME051500
ME051501
ME051502
ME051503
108
6D22-3AT
130
MM
147
MM
261.8
MM
ME051217
ME051500
ME051501
ME051502
ME051503
109
6D22-3AT 3V
130
MM
147
MM
261.8
MM
ME051217
ME051500
ME051501
ME051502
ME051503
110
6D22T
130
MM
147
MM
261.8
MM
ME051217
ME051500
ME051501
ME051502
ME051503
111
6D24
130
MM
147
MM
261.8
MM
ME051217
ME051500
ME051501
ME051502
ME051503
112
6D24 3V
130
MM
147
MM
261.8
MM
ME051217
ME051500
ME051501
ME051502
ME051503
113
6D24
130
MM
147
MM
261.8
MM
ME051217
ME051500
ME051501
ME051502
ME051503
114
6D24
130
MM
147
MM
261.8
MM
ME051217
ME051500
ME051501
ME051502
ME051503
115
6D24T
130
MM
147
MM
261.8
MM
ME051217
ME051500
ME051501
ME051502
ME051503
116
6D24T
130
MM
147
MM
261.8
MM
ME051217
ME051500
ME051501
ME051502
ME051503
117
6D24T
130
MM
147
MM
261.8
MM
ME051217
ME051500
ME051501
ME051502
ME051503
118
6DC2
130
MM
147
MM
229.3
MM
31207-43402
ME061158






119
8DC2 8DC20A
130
MM
147
MM
229.3
MM
31207-43402
ME061158






120
8DC2N 8DC20W
130
MM
147
MM
229.3
MM
31207-43402
ME061158






121
8DC4
130
MM
147
MM
229.3
MM
ME062526
31207-43401
31207-72503
31207-72603
31207-72604
122
8DC4
130
MM
147
MM
229.3
MM
ME062526
31207-43401
31207-72503
31207-72603
31207-72604
123
8DC7
130
MM
147
MM
229.3
MM
ME062526
31207-43401
31207-72503
31207-72603
31207-72604
124
6D40
135
MM
140
MM
261
MM
ME120028








125
6D40T
135
MM
140
MM
261
MM
ME120028








126
8DC8
135
MM
154
MM
229.3
MM
31207-63202
31207-62200






127
8DC81
135
MM
154
MM
229.7
MM
ME061036
ME062597
31207-72104
31207-72183


128
8DC82
135
MM
154
MM
229.7
MM
ME061036
ME062597
31207-72104
31207-72183


129
8DC82
135
MM
154
MM
229.7
MM
ME061036
ME062597
31207-72104
31207-72183


130
8DC9
135
MM
154
MM
259.7
MM
ME062379
ME062602
ME062603
ME062604
ME061782
131
8DC9T
135
MM
154
MM
259.7
MM
ME062379
ME062602
ME062603
ME062604
ME061782
132
8DC91
135
MM
154
MM
259.7
MM
ME062379
ME062602
ME062603
ME062604
ME061782
133
8DC91 8DC92A
135
MM
154
MM
259.7
MM
ME062379
ME062602
ME062603
ME062604
ME061782
134
8DC91T
135
MM
154
MM
259.7
MM
ME062379
ME062602
ME062603
ME062604
ME061782
135
8DC91T
135
MM
154
MM
259.7
MM
ME062379
ME062602
ME062603
ME062604
ME061782
136
8DC91TN 3V
135
MM
154
MM
259.7
MM
ME062379
ME062602
ME062603
ME062604
ME061782
137
8DC9T2
135
MM
154
MM
259.7
MM
ME062379
ME062602
ME062603
ME062604
ME061782
138
8DC9T2
135
MM
154
MM
259.7
MM
ME062379
ME062602
ME062603
ME062604
ME061782
139
8DC9T2 3V
135
MM
154
MM
259.7
MM
ME062379
ME062602
ME062603
ME062604
ME061782
140
8DC9T2 3V
135
MM
154
MM
259.7
MM
ME062379
ME062602
ME062603
ME062604
ME061782
141
8DC93
135
MM
154
MM
259.7
MM
ME062379
ME062602
ME062603
ME062604
ME061782
142
8DC10 NEW
138
MM
154
MM
259.7
MM
ME062783








143
8DC11
142
MM
154
MM
157.7
MM
ME060439
ME060440
ME060441




144
8DC11-3V
142
MM
154
MM
157.7
MM
ME060439
ME060440
ME060441




145
8DC11-3V
142
MM
154
MM
157.7
MM
ME060439
ME060440
ME060441




146
8DC11
142
MM
154
MM
157.7
MM
ME060439
ME060440
ME060441




147
8DC11-3V
142
MM
154
MM
157.7
MM
ME060439
ME060440
ME060441




148
8M22
142
MM
154
MM
257
MM
0








149
8M20
146
MM
171
MM
258.5
MM
ME163189
ME160286






150
8M20
146
MM
171
MM
258.5
MM
ME163189
ME160286






151
8M21
150
MM
171
MM
258.5
MM
ME161300








152
8M21
150
MM
171
MM
258.5
MM
ME161300








Other Products in 'Cylinder Liners' category