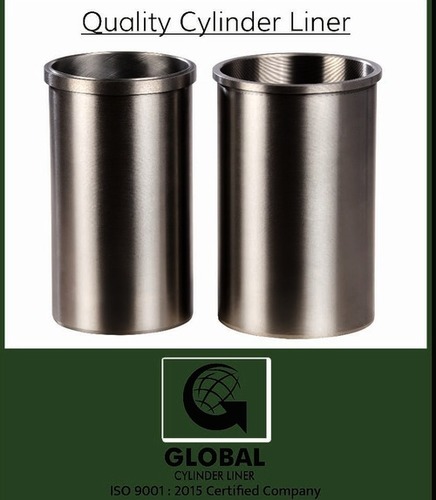 Price And Quantity
200 Piece

200 onwards INR/Piece
Trade Information
50000 Piece Per Month

60 Days
Product Description
To sleeve an engine is an important process for many reasons. This is primarily done for repairing a cylinder bore or protecting it against damage. In case a cylinder has to be "bored out" for a damaged engine repair, sleeves can be used for restoring a particular bore size. The cylinders can also be "overbore" by engine builders for increasing the engine displacement. The most engines that are sleeved are diesel engines. An increased pressure is produced by diesel engines inside the bore which can damage cylinders. The engine can be protected against this extreme pressure by using sleeves for high-performance applications.

Dry Sleeves and Wet Sleeves are the two types of cylinder sleeves. Dry cylinder sleeves are used in engines by aluminum OEM automotive engine blocks. The dry sleeve in the cylinder block's bore is either cast unto or fit into it. It is mainly installed into the cooling jacket wall in the cylinder block, which is why it does not contact the coolant. The main difference between the dry sleeves and wet sleeves is walls thickness; dry sleeves have thinner walls. Also unlike dry sleeves, wet sleeves comes in direct contact with the sleeve. This is the reason wet sleeved cylinders have cooling one step ahead and a more even distribution of temperature. One can incorporate wet sleeves in cooling passages. There is a cooling water gap in the middle of liner and engine block in wet sleeves.

Experience

Global Liners is manufacturer of Cylinder Liners and Sleeves in this industry, since 1984. Our company can easily meet the requirements of clients.

MANUFACTURING PROCESS FOR CYLINDER SLEEVES

We bring together sophisticated infrastructure and experienced staff for producing cylinder liners and sleeves using these manufacturing processes:

CENTRIFUGAL CASTING

Centrifugal casting or rotocasting technique is used for casting thin-walled cylinders. High quality results are attained, mainly in the precision control of their metallurgy and crystal structure.

FOUNDRY / MELTING

It is in the foundry where metals are melted into liquid, poured into mold, solidifying the metal through cooling process. It is where it becomes possible to cast metals into all kinds of shapes, from simple to complex.

LATHE MACHINING

A lathe can cut, turn and perform many other operations on the workpiece, which is rotated in its axis. This machine tool uses several tools for turning the workpiece into a desired object.

CNC MACHINING

CNC machine is ideal for machining workpiece that require tight dimensional control. CBC milling centers can machine many castings. Computers and servomechanisms are used by CNC lathes for regulating the rates of movement.

HONING

Honing is an abrasive machining process applied for producing precision surface on metal workpiece using an abrasive stone that scrubs the surface along a controlled path.

GRINDING

A cylindrical grinder can provide an unmatched precision level in situations that demand extremely precise metalworking.

INSPECTION

Our QA team is able to do its best by performing tests using inspection and testing equipment, such as special gauges, metallurgical microscope, roughness tester, slip gauges, height gauges, ferro lab, spectrometer from Spectromaxx Germany, profile projector, etc.

PACKAGING & SHIPPING

We make use of attractive and export quality packing material to ensure the safety of products during the shipment to worldwide market.

Our company is working for international customers whose requirement is quality cylinder sleeves in bulk quantity.

Other Products in 'Cylinder Sleeves' category